Unsurprisingly, I don't have as much time to scrapbook as I'd like. (I was about to write 'as I'd like right now' but I'm pretty sure that's not going to change any time soon!) So I want the pages that I do create to be meaningful and document something important to me. Time and again, Simple Scrapper's Story Starters help me do that. The Story Starter theme for August is Explore. I have so many travel photos and stories that I could have used but I like to read through the whole list of prompts and then think for a few days, seeing what idea really resonates with me. I'm often surprised by the stories that want to be told.
I started this layout with the photo of Milly, having her very first shower. I tried a few options of letter stickers for the title before deciding on the orange vellum, which dictated the width of the photo block and text. A piece of multicoloured pattern paper to match the orange gave me the colour scheme for the layout and a stamp from the Ali Edwards Wild Story Kit, which reads 'Blessed are the curious for they will have adventures', seemed like the perfect accent. (It's not showing up so well in this photo but isn't difficult to read in person.)   
Supplies include:
My Minds Eye - On Trend 2 Collection - 6 x 6 Foiled Paper Pad
American Crafts - Amy Tangerine Collection - Plus One - Remarks - Alphabet Book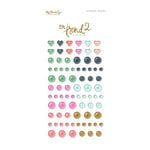 My Minds Eye - On Trend 2 Collection - Enamel Shapes
The Premium Membership at Simple Scrapper provides skills and shortcuts to help you simplify and find more meaning in your memory keeping.